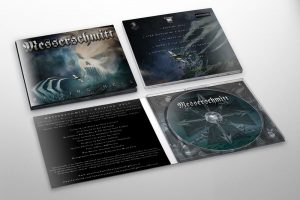 MESSERSCHMITT – RAISING HELL (CD) – Metal Zone – 2018/2021
L'arrivo della pandemia a inizio 2020 ci ha indotto a sospenderne la promozione del CD con l'idea di riprenderla quando le condizioni lo avessero permesso. Quel momento adesso è arrivato e dal 15 ottobre 2021 il CD Messerschmitt Raising Hell è di nuovo disponibile!
All Songs Are Written, Arranged And Performed by Messerschmitt:
Luca "Frankenfurter" Loreti: vocals
Francesco "Riffmachine" Ciancaleoni: guitar
Fabrizio "Fiz Bizzi" Appetito: lead guitar
Mario "the Drill" Ghio: bass
Luca "the Animal" Federici: drums
Produced and Mixed by Fabio Lanciotti
Co-Produced by Ray Sperlonga
Recorded at BdS Studios & The Rosary Lane Studios
Mastered by Riccardo Pasini – Studio73
Cover Artwork by Giampiero Wallnofer
Band Photos by Andrea Becciolini
Graphics by Roberto Galluzzi
Special Effects by Umberto Tamilio "Umbozzy"
Press Manager: Francesco Gallina
Management: Gianfranco Belisario for Metal Zone
Tracklist:
1. RAISING HELL
2. LIKE WATCHING A NEW CHILD BORN
3. GLIMPSE OF SHAME
4. BORN IN THE SLUMS OF ROME
5. HUNTER TODAY PREY THE NEXT DAY
6. ONCE AGAIN
7. THE FINAL SCORE
8. BRAKELESS
DIFFUSIONE SU TUTTE LE PRINCIPALI PIATTAFORME DIGITALI: Questo link rimanda alle seguenti piattaforme in un'unica pagina di riepilogo (Spotify, Amazon Music, Tidal, Deezer e Qobuz). Altre piattaforme: YouTube, Napster, YouSee, Naver Vibe e Genie
Il CD può essere richiesto direttamente alla band tramite messaggio privato sulla pagina Facebook ufficiale dei Messerschmitt  oppure inviando una mail al Metal Zone management (gf.belisario@gmail.com).
Il CD è acquistabile:
– in versione digipack presso alcuni negozi di dischi di Roma o utilizzando un servizio di vendita on line:
Pink Moon Records (Via Antonio Pacinotti 5, Roma)

Ace Records Roma (via Veglia, 29 Roma)
ALTRE INFO E LINKS:
La genesi di Raising Hell (dal blog di Francesco Riffmachine Ciancaleoni)
YOUTUBE (VIDEO):
RECENSIONI:
COMUNICATI DI SUPPORTO: